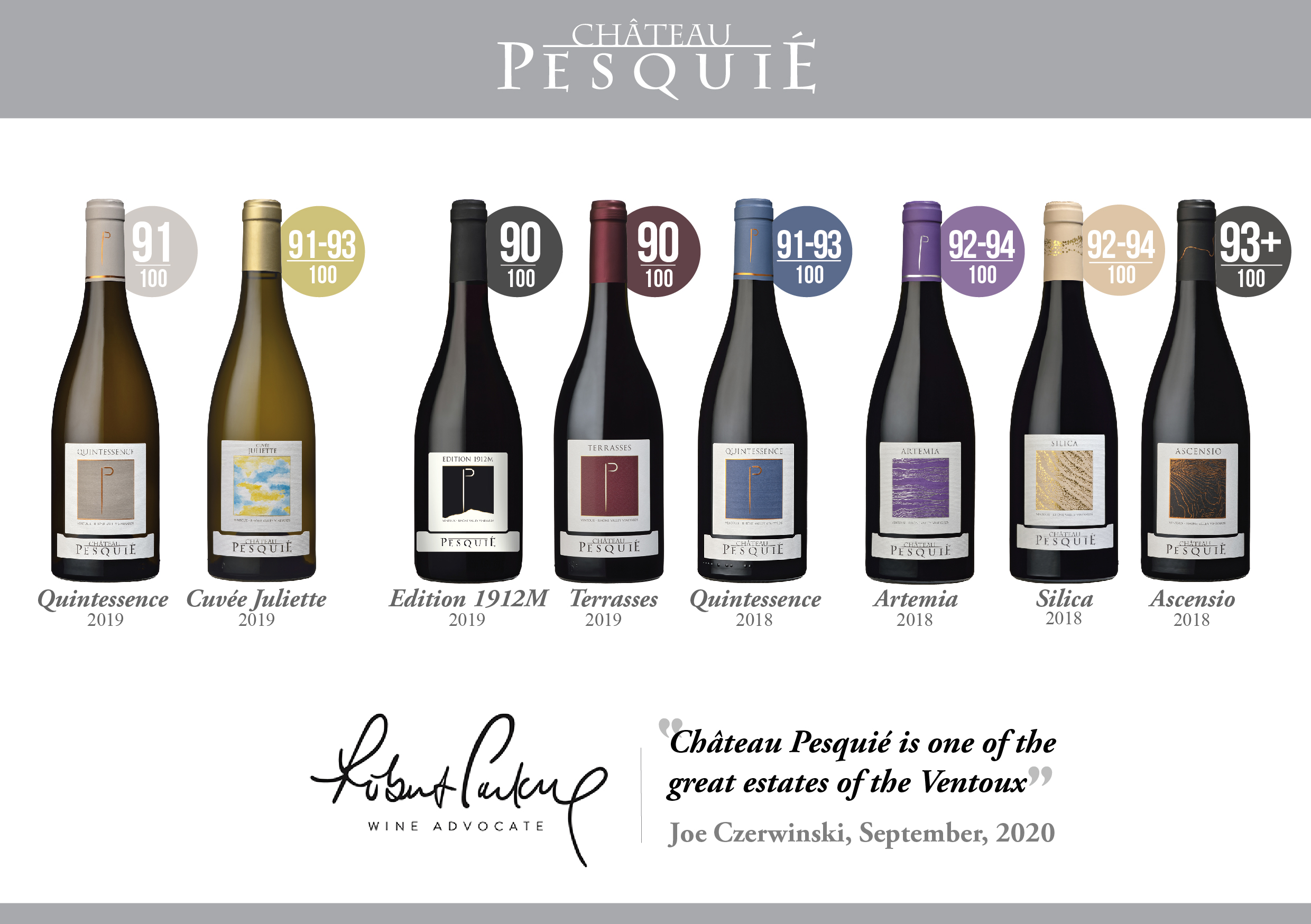 We are very proud to be part of the famous Wine Advocate selection, you can read below all the notes and rates about our wines tasted in September, 2020 by Joe Czerwinski.
SILICA 2018 : 92-94/100
"It's richer and fuller than the 2017, harmoniously mixing vanilla and cedar notes with ripe raspberries. It's full-bodied and creamy textured, finishing rich, chewy and long, with hints of licorice adding even more interest. It looks capable of aging for a decade or more."
ARTEMIA 2018 : 92-94/100
"the 2018 Ventoux Artemia boasts exuberant notes of cherries and blueberries accented by assertive notes of cracked pepper. It's full-bodied, creamy and lush, then firms up just enough on the finish to think it will have a decade of longevity."
ASCENSIO 2017 : 90+/100
" Slightly lifted and peppery on the nose, it's full-bodied yet crisp, with tightly wound black berry fruit that could blossom with further bottle age."
ASCENSIO 2016 : 92+/100
"Full-bodied and dark-fruited, it delivers notes of mocha, tapenade and cola; a rich, velvety feel on the palate; and a lingering, open-knit finish. I'd opt for drinking it young, but it could surprise and further improve with extended cellaring."
QUINTESSENCE ROUGE 2018 : 91-93/100
"A bit higher proportion of demi-muids than the 2017. The result is that notes of vanilla and baking spices accent the raspberry fruit on the nose, while the full-bodied palate is plush and creamy, finishing long, velvety and simply put, deliciously."
TERRASSES ROUGE 2018 : 91/100
"A welcome return to form, the 2018 Ventoux Terrasses is a floral, herbal and red-fruited version of this unoaked cuvée. It's medium to full-bodied, with ample concentration, velvety tannins and lovely hints of tea and spice on the long finish. It should drink well through 2024 or so."
TERRASSES ROUGE 2019 : 90/100
"The 2019 Ventoux Terrasses remains one of the top values in the Southern Rhône. It offers aromas of black cherries and raspberries, underscored by hints of black olives. Medium to full-bodied, it's round and silky-firm in feel, with a long, salty, mouthwatering finish."
CUVEE JULIETTE 2019 : 91-93/100
" It offers up delicate aromas of white peaches and tangerine on the nose, while the medium-bodied palate is fine and clean, with a crisp, saline quality on the long, mouthwatering finish."
QUINTESSENCE BLANC 2019 : 91/100
"The 2019 Ventoux Quintessence Blanc comes across as a bit tight, taut and oaky—it appears to need some time to relax and allow the pineapple, pear and white peach notes to come through. It's medium-bodied and silky, with the potential to drink well for up to five years."
TERRASSES BLANC 2019 : 90/100
"On the nose, it's spicy and floral, with some melon-like fruit, while the medium-bodied palate is silky-textured, fresh and clean, with mouthwatering pineapple notes on finish."